Sol d'Oro is one of the most important international olive oil competitions. The competition takes place twice a year: in February for extra virgin olive oils from the Northern hemisphere and in September for those produced in the Southern hemisphere. This is an EVO oil competition organized by Veronafiere since 2002, with the aim of enhancing and promoting the best extra virgin olive oils from around the world.
Here the winners of the 2021 Sol d'Oro contest – Northern Hemisphere.
Delicate Fruit Olive Oil
Gold Medal: Palacio de Los Olivos – Olivapalacios S.L. , Madrid (Spain).
Silver Medal: EVO – Azienda Agricola Fisicaro Sebastiana, Italy (Sicily).
Bronze Medal: Messer Francesco 1640 Selezione – Malvetani Società Agricola Sas, Italy (Umbria).
Special Mentions:
Frantoio Bonamini srl VENETO VALPOLICELLA D.O.P. Veneto
Az.Agr. Venturini Paolo OLIO GARDA DOP BRESCIANO-MONTECROCE Lombardia
L'Olivicola Casolana Soc. Coop. Agricola PIANO DEGLI ULIVI Abruzzo
Mezzecrete Società Agricola Olio NECE DOP TERRE DI SIENA Lazio
Frantoio di Piensi ETICHETTA SCURA Lazio
Frantoio Oleario Santinelli Francesco e C. OLIO SANTINELLI Lazio
Almazara Quaryat Dillar (INDIVEGIL, S.L.) QUARYAT ARBEQUINA Spagna
Frantoio di Spello UCCD FRANTOIO DI SPELLO DOP UMBRIA COLLI ASSISI – SPOLETO Umbria
Oleificio La Farciola Nicola RAGGIO D'OLIVA Abruzzo
Azienda Agricola Vangi Elena FATTORIA DI CERRETO Toscana
Exportadora Andaluza De Aceites, S.L. RECUERDAME Spagna
Monteolivo LONGOVILO
Medium Fruit Olive Oil
Gold Medal: Concordu – Masoni Becciu di Deidda Valentina, Italia (Sardinia)
Silver Medal: Riserva – Fattoria Ambrosio, Italy (Campania).
Bronze Medal: VillaMagra Riserva di Famiglia – Frantoio Franci, Italia (Tuscany)
Special Mentions:
Az. Agricola Brioleum TENUTA SCANNONE GARDA DOP TRENTINO Trentino
Paolo BonomelliI Boutique Olive Farm TREFÒRT Veneto
Accademia Olearia Srl "RISERVA DEL PRODUTTORE" DOP SARDEGNA Sardegna
Sabino Leone LA BERAFATT Puglia
Almazaras De La Subbetica PARQUEOLIVA SERIE ORO DOP PRIEGO DE CÓRDOBA Spagna
Agraria Riva del Garda ULIVA – DOP GARDA TRENTINO Trentino Alto Adige
Dievole 100% ITALIANO BLEND Toscana
Paolo Cassini EXTREMUM MONOCULTIVAR TAGGIASCA Liguria
Oleificio Torchia TORCHIA Calabria
Az. Agricola Tommaso Masciantonio L'OLIO Abruzzo
Az. Agricola Cosmo di Russo DON PASQUALE – DOP COLLINE PONTINE Lazio
Az. Agricola Decimi DOP UMBRIA
Intense Fruit Olive Oil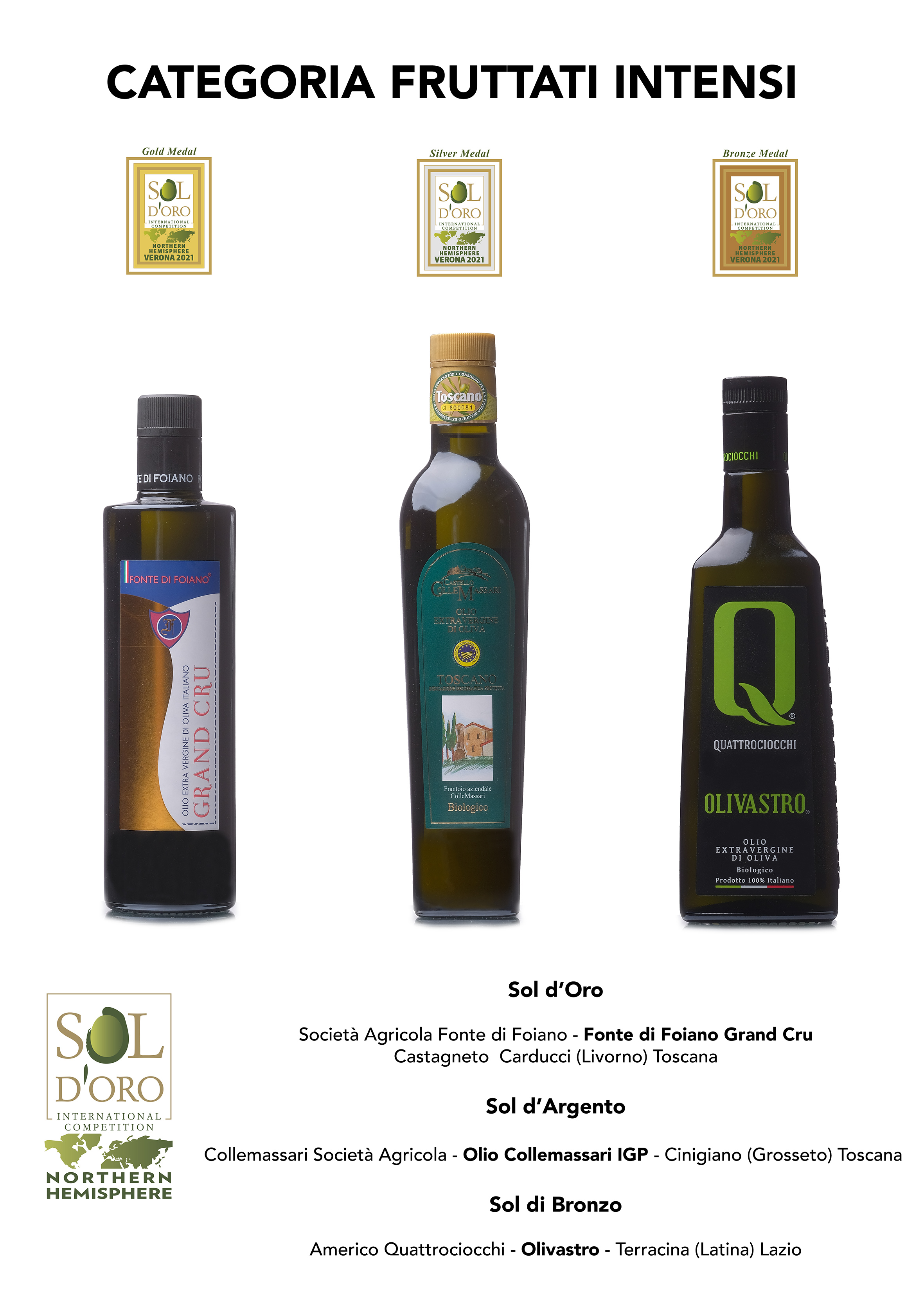 Gold Medal: Fonte di Foiano Grand Cru – Società agricola Fonte di Foiano, Italia (Tuscany)
Silver Medal: Olio Collemassari IGP – Collemassari – Società Agricola, Italy (Tuscany).
Bronze Medal: Olivastro – Americo Quattrociocchi, Italia (Lazio)
Special Mentions:
Moli D´Oli Gabriel Alsina I Fills OLICASTELLO ARBEQUINA Spagna
Sca. Olivarera La Purísima EL EMPIEDRO (D.O.P. PRIEGO DE CÓRDOBA) Spagna
Frantoi Covato Srl A' TURRI DOP – MONTI IBLEI – SOTTOZONA FRIGINTINI Sicilia
Azienda Agricola Il Cellaio PODERE CELLAIO Toscana
Az. Agricola Donato Conserva MIMI' Puglia
Az. Agricola Rollo LETIZIA Sicilia
Frantoio Artigiano Sandro Chisu VANTU RISERVA Sardegna
Monte Rosso d.o.o. M GRAND SELECTION Croazia
Az. Agr. Pietrabianca MAGNETE Campania
Goya UNICO PREMIUM
Monocultivar Extravirgin Olive Oil
Gold Medal: Villa Magra Grand Cru – Frantoio Franci, Italia (Tuscany)
Silver Medal: Caieta Evo – Azienda Agricola Cosmo Di Russo, Italy (Lazio).
Bronze Medal: Superbo – Americo Quattrociocchi, Italia (Lazio)
Special Mentions:
Az. Agricola Rodyum FREEDOM Campania
Ciccolella Soc. Agr. COPPADORO Puglia
Fattoria Ramerino Soc. Agr. CULTIVAR FRANTOIO Toscana
Masoni Becciu ISPIRITU SARDU Sardegna
Speck Stube Sas LE CREVE GARDA DOP Veneto
Intini MONOCULTIVAR CIMA DI MOLA Puglia
Soc. Agr. Fonte Di Foiano FONTE DI FOIANO RIFLESSI Toscana
Az. Agr. Tommaso Masciantonio INTOSSO Abruzzo
Fattoria Ambrosio IDRA Campania
Aziende Agricole Di Martino LA CORATINA Puglia
Az. Agr. Fisicaro Sebastiana TONDA IBLEA Sicilia
Collemassari Soc. Agr. MONO Toscana
Organic Extravirgin Olive Oil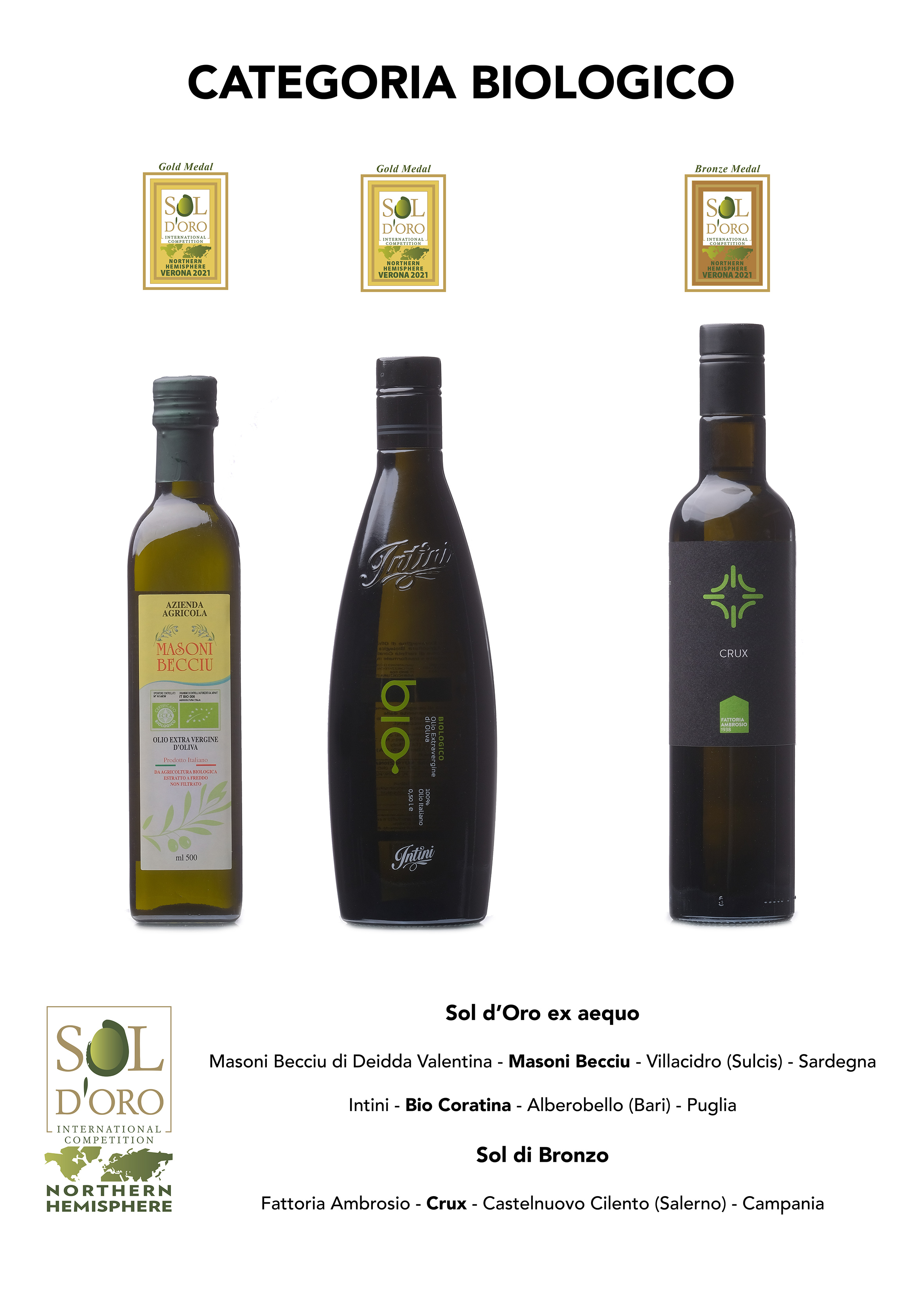 Gold Medal: Bio Coratina – Intini, Italia (Apulia)
Gold Medal: Masoni Becciu – Masoni Becciu di Deidda Valentina, Italia (Sardinia)
Bronze Medal: Crux – Fattoria Ambrosio, Italia (Campania)
Special Mentions:
Aceites Finca La Torre Slu FINCA LA TORRE SELECTION HOJIBLANCA Spagna
Americo Quattrociocchi CLASSICO Lazio
Marsicani Nicolangelo VIRIDE Campania
Sabino Leone EXTERRA Puglia
Almazaras De La Subbetica RINCÓN DE LA SUBBÉTICA DOP PRIEGO DE CÓRDOBA Spagna
Frantoio Franci Srl FRANTOIO FRANCI BIO IGP TOSCANO Toscana
Agraria Riva del Garda 46° PARALLELO BIOLOGICO Trentino alto Adige
Tenuta Chiaramonte Soc. Agr. IL PRIMIZIO Sicilia
Società Agricola Fabio s.s. OLIO EXTRAVERGINE DI OLIVA ITALIANO BIO Toscana
Soc. Agr. Casa Pietraia CASA PIETRAIA Toscana
Az. Agr. Fisicaro Sebastiana- Frantoio Galioto BIO Sicilia
Agrestis soc. coop. agricola BIO Sicilia
Absolute Beginners
Gold Medal: Jasa Prestige Cuvée – Arsen Jurincic – Jasa Prestige, Slovenia
Silver Medal: Oro di Giano Monovarietale San Felice – Agricad Società Agricola, Italia (Umbria)
Bronze Medal: OrOlio Limited Edition – Azienda Agricola Fratelli Renzo, Italia (Calabria)
Special Mentions:
Az. Agr. Monica Vaccarella DONNA EMME – OLIO EXTRAVERGINE DI OLIVA – VENETO VALPOLICELLA DOP Veneto
Francesco Di Mino DI MINO CONTRADA SCINTILIA – NOCELLARA DEL BELICE Sicilia
Frantoio Di Cornoleda S.A.S. GREEN SELECTION Veneto
Azienda Agricola Molino '7Cento MOLÌ- MONOCULTIVAR ITRANA Latina
Agricola Toma PERANZANA – OLIO DEL POETA Puglia